Silvia is going through a very difficult time. Three of her children are living behind bars.

Her two eldest sons are in an adult's prison in the state of Chihuahua, and her youngest boy, Miguel, is in a juvenile detention facility in that same state. Silvia lives very far from both prisons, in a neighboring but distant state, about 300 miles away.
Silvia earns the minimum Mexican wage, her husband lost his job as the pandemic grew bigger, so while he is looking for another job, she is the one covering their home's bills, where their daughter lives as well.
With a heavy heart, she has had to tell her sons in prison that she will not be able to visit them for months at a time because she simply does not have the money to cover the travel expenses.
Last year she got sick from COVID-19, which made it even harder for her to even fathom going out to visit her children. She did not think it was reasonable for her to put other people in danger during the trip to another state, so she settled with just being able to see Miguel through video calls for a couple of months.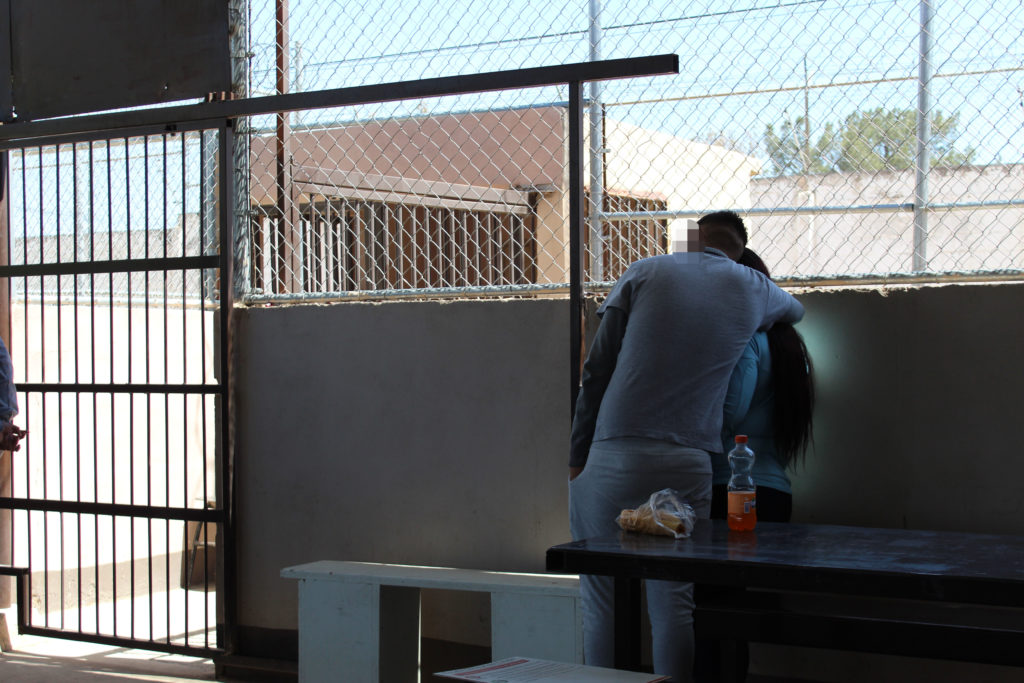 One day she got a call from our staff member in the state of Chihuahua. She informed Silvia that she was aware of her situation and that JJAI was willing to cover her bus ticket so that she could visit her son. All she had to do was tell us the date that would work best for her. Silvia could not wrap her head around this information.
Silvia told our staff member that she felt sad that she would only be able to visit one of her sons, because she understood that the help was only intended for her youngest son. After learning more of her case, we found out that she has a family member living in Chihuahua, who could have her over for the whole weekend, so this way she could visit Miguel on Saturday and her eldest sons on Sunday.
Silvia was overwhelmed with joy at what this help represented to her. There was only one more problem: she did not want to visit her child empty handed.
The inmates In Mexican prisons get by with just the possessions that their families can provide to them when they visit them. All items must be authorized and pass a control check from the prisons' authorities and the inmates must be very careful of them because sometimes they can go for long periods before they are able to get a new item. Months, or even years, can go by before they can have new toothbrushes or underwear.
Our staff member met Silvia at the main bus station in Chihuahua. They were very excited to meet and would have loved to be able to hug or at least shake hands, but the pandemic does not allow it. So they just waved at each other and, even though they could not see their mouths, their eyes showed the happiness they both shared.
Our staff member took Silvia to the detention center where Miguel is living. She also handed her a bag with a new pair of sweatpants, sneakers and a personal hygiene kit. Silvia was very emotional from everything that happened and for being able to visit her son with a small gift that she could not have acquired on her own.
Silvia spent a couple of blissful hours inside the detention center with her son.
When she came out, she was very moved by all the help she received. She sat down in a bench with our staff member and she shared the following:
"When I come here to visit my sons I always get nervous because I don't know what is going to happen, but I put myself in God's hands. I start thinking that, no matter what happens, it is worth it because I am going to be able to enjoy some time with them, I will get a chance to talk to them and that's a very beautiful feeling. As I have already told you, I am extremely thankful for this help. Blessed are you and all the people who do everything they can so I can come see my kids. I am infinitely grateful for your kindness. It never even crossed my mind that I would meet someone like you and yet here we are. Please know that you have a friend in me forever and that I hope that God will bless you in everything you do".
At JJAI we believe that the families are key to the successful reintegration of the children into society. There is rarely a good outcome from blocking the contact between families and their children. Being able to provide the parents with opportunities for transportation to visit their children might seem like a simple thing, but for these mothers and fathers it is a hopeful step towards the healing of their families.
Please consider making a donation today so we can provide these opportunities to more families.